Mobile DJ Services!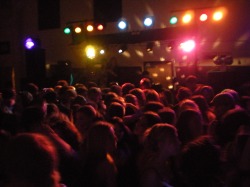 Studio 7 has developed the highest reputation for quality DJ services. We service all of the local High School's as our sound systems can fill even the largest venue with plenty of volume and the bass "thump" that kids love. Our bread and butter however, is wedding and reception DJ services. Studio 7 has provided DJ services for over 230 weddings over the last ten years. Although we do advertise in the yellow pages, 90% of our business is word of mouth advertising and direct referrals from our customers.

As you peruse the web to check out other DJ services, you'll notice that Studio 7 is very competitive in pricing for weddings. Do not think that your service will be less with a lower costing DJ service. I actually created this business because I believe that there should be a DJ service that caters to clients and operates as a sort of wedding organizer at a reasonable rate. Most of our wedding receptions are around $800.00! Unlike other DJ services, you'll never be charged for set up and tear down time and we have rarely charged a client for time beyond the contract.

Here's a final thought for you to think about. As you look at other DJ services, keep in mind that many are small outfits that only have one DJ. Be aware that if they get sick, you don't have a DJ. If their son or daughter breaks their arm on the morning of your wedding...you don't have a DJ. Studio 7 ALWAYS has a backup. In the summer of 2008, we rescued three weddings that had a DJ cancel at the last minute. In 2009, we rescued two, in 2010 we rescued four, in 2011 one, 2012 four and this year we've rescued three weddings and a middle school dance! This is the advantage of a larger company. Once a contract is signed with Studio 7, you are absolutely 100% guaranteed to have a DJ fulfill his or her contractual obligation.

Steve & Debbie Fox of Bend had this to say about Studio 7's DJ service:

"Thanks so much for the part you played in our daughter's wedding. The music & DJ-ing played a huge part in the success of the evening. People really enjoyed the selections & dancing 'til dark. You did a wonderful job in moving the evening along at the right pace. People also commented on how well they could hear the vows (even though they were sitting in back). Thanks for everything!"

What does a wedding DJ do? We feel that the best DJ's will keep the flow of a reception going in a positive and professional manner. We don't put out tip jars and banners. It is our belief that the best DJ is the one that blends in with the environment. The bride and groom are the focus of the wedding. As DJ's our job is to make sure that things go smoothly and the music is appropriate for all in attendance. Quite literally, our wedding DJ's actually serve as wedding coordinators and can walk you through the entire wedding from start to finish when we meet. We've done so many weddings, that our heads are full of great ideas! If you are having a "destination" type of wedding, you need to hire Studio 7 as we've worked every venue in Central Oregon and already know the venue and the precise layouts.

Once you contact us, we'll ask you to sign a contract and make a $100.00 deposit. After that, we simply meet and discuss what you want your wedding and reception to look like. Our packages range from a minimum of $800 to a maximum of $1700 (although this has only occurred once and it was a HUGE GREEK WEDDING). For private smaller parties just give us a call to see what we can do for you. Sweet sixteen parties for example can usually be done for less (depending on time and equipment). It really just depends on what your needs are. After you visit with Dave, Marc or Renee', you will meet with your DJ so that he or she can get a feel for your personalities and expectations. As professionals, we understand that no two weddings or parties are alike. Let's make your wedding unique!

Please ask us for referrals. We would be glad to give you the e-mail of any of our clients. We do try and stay in the Central Oregon area. Although we appreciate the calls from those of you outside our area, it is not cost efficient for us to travel outside of Central Oregon.


---